We hope that anyone that has been involved with the orchestra for any length of time will include their bio here. The orchestra is a living, breathing and constantly changing entity. Anyone that has ever played with or directed the orchestra has played a part in making it the phenomenon it is today.
Marcus Valentine :: Keyboards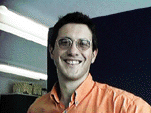 Classically trained Marcus Valentine (failed Grade 2 piano) gigged as a duo as recently as 1985, and is therefore the ideal person to join a contemporary orchestra with 20 plus members.
In the intervening decades he has been ploughing a lonely musical furrow in his bedroom, culminating in a musical style variously described as "Lounge Core" or "Acid Cheese".
Some examples can be found at http://www.marcusvalentine.org/music/
His ambition is to persuade the Cube Orchestra to do a cover of ["Session"] by Linkin Park
Oliver Kohll :: Violin
Minimalist
Paul Albrecht :: Drums
Emigrated from Azhurbijhan, disguised as a Swiss tourist who'd lost his suitcase (so obviously had to stay in the country until it was returned- still waiting!) While 'waiting', decided to take up the drums and summon the spirits of his ancestors in a tribal dance. Whilst in a 'tribal' induced trance,he stumbled across the Cube and it's intriguing patrons who seemed willing to accept (put up with) his stange beatings!!
Leila Gamaz :: Melodica-mostly
Sometimes goes by the name, AWOMANABLE. Mostly tries to play fun melodica tunes, sometimes harmoniums if it's possible to lug one to the Cube.
Ale Fernandez, world renowned trumpet salesman and seller of organic tortillas in the desert, is by far the most important member of the orchestra. Others do not need listing, as they function solely as accompanists for my tortilla flipping talents. (I'd like to add that this is all lies: I do not sell trumpets: please stop asking me for prices!)
Keef Chemistry :: Melodica, iPad, Percussion + anything lying around

Initially scared, now simply scarred, keef's been a regular at cube orchestra sessions since October 2013. Rather than play guitar, the instrument he's played all his life, he plays an old melodica, which he found at a jumble sale. To make life more difficult, he hooks it up to an iPad and is responsible for 99% of the feedback heard on our recordings.
His website and blog can be found at http://keefchemistry.com/
Ramon Sanchez :: Percussion, Trumpet, Sax, Vocals...
AKA ramon trecu.....AKA...Aldabaldetrecu AKA half a pound of treacle AKA....ramon is a crap..... drummer/ trumpet/ keyboard /whistle /player /singer /poet/storyteller who refuses to play sax or any instrument properly .......practices only continuous circular breathing while great grandaddy dancing........thus managing to be continuously mashed since 1964....who playing in the lovely cube orchestra is....living proof of the kindness of cubistas.
Sharleena Ray :: Vocals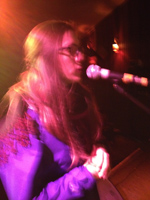 Melody, scat, chatter, stream of conscience and laughter. Occasionally dabbles with the piano and keys. Has brought along a melodica, ukelele, kalimba and kazoo to date.
Ant Brown :: Bass / guitar
Transplanted from the industrial wasteland of the West Midlands to the green finery of Bristol circa 2006, Brown left his old life to fresh environs within the Cult of Cube(tm) circa 2007. First his long-time relationship had to end but sacrifices must be made. A veteran of adolescent punk wasteoids Sixteen Candles, post-smoke behemoths Talking Loudly,Smoking Cigars and avant-acoustic venturers Brutar Weimaz, Brown is a proficient bozo-groove meister on both bass and guitar. His chosen weapon in the Orchestra is the Bass (strings weeping like ancient black snakes.) He is pioneering new forms of moronic jazz and is the Cube's token swearer.
Gerry Barnett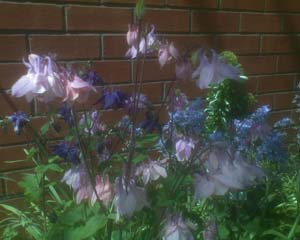 I like banging mangled pianos. And drums and anything not sentient that'll make a noise. I'm a major fan of the Melodica at the moment. I also like to make weird vocal noises which I'm sure will get me on tele when I grow up. (Not that I have a tele, being paid-up member of the Vanguardista-of-Easton Hippie Feminist Eco Housing-Co-op Wymyn. Huzzah!) I'd like to bring my cello/a harmonium but am too lazy to cycle/walk/bus/it over. I played in the school orchestra when I was a kid, so Cube is a natural progression.
Andy Duncan :: Guitar / Keyboards / Fungus Moth
Legendary DIY & Home recording artist, unburdened by passing trends, fads or trains. Blessed by a loved Middlesex upbringing & discovering music at a time when it was truly vibrant, exciting, innovative & massively influential, ie the Post-punk years 1981-6. Inspired by this & the master, JP, to begin composing Insectual masterpieces, these progressed so that by the 90's The Moth had surfaced on the Intl. DIY, experimental & anarchist scenes. Controller of no instrument, maybe not even my hands, my aim is to create wondrous sound-collages that may inspire, disturb & possibly even cause happiness. Constantly at odds with prevailing social & musical theories, believing in challenging the future with sound in a Punk / Dadaist / Futurista sort of method. Let the battle of the instruments begin & may there be some sort of response from the aware & the reposing!!!! Greatly appreciate thriving underground music & arts scene in Bristol that has allowed me to become involved in this: however also appreciate the £1 fares to Londinium where life offers further riches remembered, encountered & memorised.
THE AMALGAMISED SOUNDNESSE OF CONSTRUCTED & STEWED DISTORTIONS. ABRASIVE DEBRIS. THE COHESION OF THE MASSES MUST BE CONTROLLED BY ACTUAL HAPPENINGS.
Ivan :: String disaster
Extracts partially tonal and occasionally rhythmical sounds from all sorts of string instruments. Highly unreliable. Probably a KGB agent sent to steal the secrets of amorphous improvisation.
Tomoko Takahashi :: Low strung menace
Shipped in directly from Kobe, Takahashi was sent to monitor Mr Paradise's monetary scams for the Yakuza. Swathed in bass frequencies, her activities continue, unnoticed by the dastardly Paradise. Her harmonica contains a morse code signal carrier to inform the services of "unnatural" goings on. Be careful, if you cross her, she will have you dismantled and shipped off to Manitoba.
Jerry Afraid :: Theremin
Afraid is the Orchestra's token serial fantasist and theremin wizard. He claims to be Bristol's prize winning bare-knuckle fighter and film-maker and is currently challenging Team Brick to a show-down (this time next week if you can make the grade, Brick.) He will take any Transport Police on, anytime, anywhere.
Team Brick :: salamander diary keeper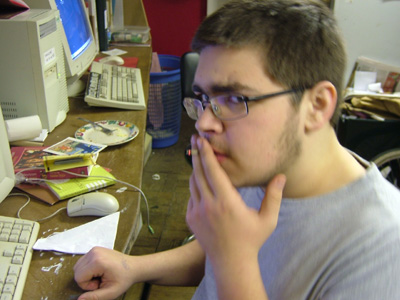 Team Brick, born to a blind farm hand and a toaster factory in the Canadian rockies fell off the production line desparately clutching onto a mug of coffee and a blagged rollie. Wandered into the cube during orchestra practice to ask directions to Makro, became ensnared by the atonal sax widdle whips and is now being held captive and is forced to holler, yelp and fake his way through a number of autistic grade instruments. Help him. Set him free, back to the mountains. NOW.
Liam Kirby :: Viola
Originally one of the small army of guitarists in the Orchestra's early incarnation, Liam has switched alliegances to the viola. Which he can't actually play very well yet, but let's not dwell on that fact. He is a student, but someday hopes to be a real person. Liam can still be found wielding his trusty geetar with spazz-jazz funksters 'Sculpture', for whom see http://www.myspace.com/sculpture/
Mark Whiteford :: Soprano and Tenor Saxophone
been playing pretty much free improvisation for 20 0dd years. used to have me own performance art project using film dance slides and music. used to play in a bristol agit pop band heavily influenced by The Pop Group seminal bristol post pop politicos= man them was good times in bristol. been out of action for many years disappeared into the grim british countryside, my own garden of gethsemane. been learning jazz chord progressions and tunes for the past few years just to inform my improvisation. been working on my technique too. still play improvised music live. recently had a trio gig in london. seriously dedicated to improvisation and feel a huge love for the soprano saxophone. the cube orchestra is a brill experience. it's beeen a total blessing.
Mr_Hopkinson :: Turntables and Cameras

A video artist really rather than a musician if you want to pigeonhole, though I guess you probably don't if you're here . . . I do bits of documentation for the Cube and maintain the web log - http://sparror.cubecinema.com/cubelog/ email me for a login via the list if you would like to contribute . . !
I can play your basic guitar and keyboards but chose the turntable for the Orchestra - which I'm probably even worse at, but am determined to develop . . . despite the fact that I get so distracted trying to exercise some sort of control that I'm prone to miss many of Peter's directions.
Been producing 'musical' and 'non-musical' audio, usually in combination with making various visuals, ever since abusing my first tape recorder, well, probably since toddling into my Dad's radiogram which may well have delayed the arrival on the tape recorder, hmmm, or prompted it.
I was sent to piano lessons as a little short one, but was so fascinated by the mechanism of the piano stool that I persuaded the teacher we needed to take it apart to discover the inner workings rather than practice scales . . . a bit later on, to much delight, I found out you can deconstruct music too, yay!!
The closest I've been to being a conventional 'musician' rather than an artist messing about with sound is probably the 'Stoloff & Hopkinson' project - though my role was more about production than musicianship( Stoloff was in the role of French Rapper / Pianist that I was effectively doing very involved remixing of ) [ http://www.essenhaitch.co.uk ] We had/have records out in Japan, Russia and here ( and the here shop! ) ), also collaborate with Jem Noble a.k.a Lovewig under the title Granzon Nodo, Super*Group*Extreme with RLF,Lady Lucy, The Janitor & Additional [ http://www.supergroupextreme.tk/ ] , Rescore films & combine recordings to make people dance ( in licensed establishments ) or ponder ( on the (mostly internet) radio ), all in a somewhat skewed up fashion. My computer also sometimes sings too, sometimes on stage.
I've just made a virtual orchestra of my own for a web project where you can 'conduct' video samples - some of the players are also Orchestra Cube members - you can have a play here . . . http://www.electricpavilion.org/zones/urban/ ( you will need the flash player plug-in installer, but there is a link to it there )
I think the orchestra is a wonder and cherish being involved, thank you all.
Belinda Davies :: Trumpet
Bel doesn't sell trumpets but likes to play one. However this was not always the case. After a past life training as a classical musician and working as a music teacher for some years in Australia, she lost all sense of fun in music and ran away with a backpack, no trumpet and lots of plane tickets in a madcap attempt to find it again. The world tour did involve a soiree into the world of acoustic guitar (why play 10 instruments badly when you can play 11!) but there was something missing and it was something loud. There were fun times to be had playing reggae, jazz and funk and teaching all brass, woodwind and percussion instruments (sometimes simultaneously), but there was way too much structure and discipline for such a wanton lass. The cube orchestra has been the catylist for her wholehearted return to the world of music creation and the world now indeed is her rhubarb. Although she is not yet inspired enough to play for long hours at home like a good trumpet player should, she is now playing every week and sometimes even twice! Bel is also playing with the wonder of Brizzle indie goodness that is the legendary Beatnik Filmstars. http://www.myspace.com/beatnikfilmstars She would like to give a warmhearted thanks to Jesse and Peter for starting it all, and the Cube Orchestra for providing this incredible and unique opportunity to participate in such brilliant madness.
Helen Jenner :: Flute & Bass Flute
When I am not being employed as the Pied Piper My preferred way of spending time is by dancing like a fish or playing the flutes... I've been involved in a range of musical projects... check out http://www.sawtooth.org.uk "Sawtooth " is a collaboration of musicians & field recordings, also check out the links from this site for Multi AV festivals I've participated in .. I also play in "The Glitzybaghags", a 7 piece acoustic Gypsy folk Jazz project.... We are looking forward to playing our way to the Django festival in France this summer... I Have also had many lovely times when I played with "Mofunk" a 12 piece latin funk collective touring Italy Spain & Playing at Glastonbury festival, Ashton Court, Shambala & other festys of infinite loveliness.. Also I have been recording with Alex Stolloff for his next release out on Angels Egg coming out soon.. I've done a lot of session recording which is always a good giggle... Tralaa!!!! I relish the spontaneity of Cube Orchestra & its simply the Bees Knees... Music is the pulse of life & everything & Bring it on!!
Love & Laughter & never stop dancing Helen xx
Hugh Spiller :: Bass guitar
I'm a generalist. Apart from the Orchestra, I play bass in the space-rock / weird noise bands Cult of Eris and Droids' Chorus (with guitarist Tim and sometimes drummer Rich), and I also have solo projects called Silev (guitars and analogue stuff) and Id Lab (computers and digital stuff). I'm also in the Bubble Chamber Orchestra, though it's been dormant for a couple of years now, and ZIDPO (the Zero Input Delay Pedal Orchestra), which has never played at all, yet. Each of these projects involves a lot of improvisation.
Apart from making music, I often take photographs at gigs, and promote musical events of my own. I used to run a monthly night at the Arc Bar, called Sausage Time, which showcased a lot of very strange performances. Now I run a weekly session at the Greenbank in Easton, every Sunday evening. It's free; come down and listen, or bring an instrument and join in if you like.
Further reading: Silev - http://silev.org Id Lab - http://www.idlab.co.uk BCO - http://www.bubblechamberorchestra.co.uk Photography - http://www.lensmanship.com Promotions - http://www.factfans.co.uk
Pippin Sadler :: Poetic Expression
The son of a therapist and time management trainer, Pippin was born late and lanky. He knew from the start he would become a LEGO architect or an accountant. He was wrong. In despair he turned to poetry and philosophy and found redemption though ice cream.
Pippin likes words that rhyme and, after walking from Lands End to John o'Groats last year, dislikes walking.
Peter Swaffer Reynolds :: Conductor
Born london, Mile End, conducting improvisation, accordeon, piano. More or less. Many years in Scandinavia.
Unai Requejo :: Guitar
From Bilbao. web site: http://www.euskalnet.net/dizdiz
Quem já passou por esta vida e não viveu, pode ser mais, mas sabe menos do que eu Porque a vida só se dá pra quem se deu, pra quem amou, pra quem chorou, pra quem sofreu Quem nunca curtiu uma paixão, nunca vai ter nada, não (2x) Não há mal pior do que a descrença, mesmo o amor que não compensa, é melhor que a solidão
Toquinho - Vinicius: como dizia o poeta
Richie Paradise :: DRUMS, Acoustic and Digital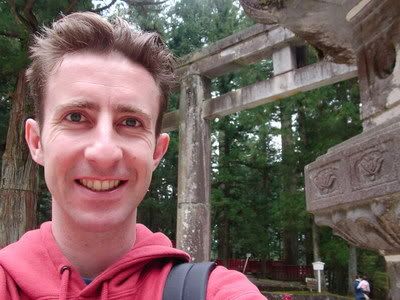 To avoid beating the children I teach, my therapist recommend I took up the drums, as a consequence the children now beat me (i'm only half joking). As a compromise I'm adapting the role of Drummer and Teacher of World Philosophy into a whole new form of Martial Art and Meditation techique. Look out for accusations of avoided taxes and sex scandals soon.
Music wise I have played the drums from Toronto to Kyoto, deportation usually follows. Playing in The Orchestra Cube allows me to play the jazzy stuff I've always wanted to, but I cut my teeth (and made a few ears bleed) playing in a number of local Beat combos, Noise terrorists The Dalai Lamas, Indie Poppers Lovesofa, Hardcore Punkers Kubrick and indie band Sourpuss. I can be seen these days improvising with Team Brick w/101, Guesting in The Cult of Eris and in my own beat combos Skulpture, and Suzuki Boom Boom.
I'm always on the look out for a good therapist or bad jazz band......
Tim :: Guitar
I play the guitar. I dunno why, I just cant help it man! I played all by myself fur many years, then I was in Herb Asher. Then Bubble Chamber Orchestra. After that a few bands that were just me under different names and whoever would play with me if I had a gig: The Stone, Cult Of Eris, and the experimental Droids Chorus which usually has Adam in it. As of time of writing, ULtrasonickk Doodiebirde is the band name, spell it however u like. I just dunno some things about music, but I do know lots of other things. Its part of my plan to keep music fun by not understanding it, yet somehow know enough to be able to play.
Barry :: Mandolin and guitar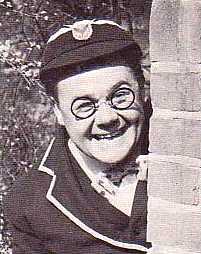 Barry is the class bully. He will get his comeuppance at the hands of Tom and his sausage lion. Baby.
Richard :: Keys and Voice
Richard coaxes beautiful noises from ancient synths, has been know to play melodica and accordion and now sings a bit, aided and abetted by his laptop. His own music can be found at http://www.soupsounds.com
Richard T :: Alto Sax
Richard dusted off his saxophone to join the orchestra in June 2008, but for a good while remained a lone horn in the wild(er?)-ness. Though now enjoying the company of a growing and sometimes rather harmonious horn section, he is ultimately destined to remain frustrated in his thwarted attempts to turn the orchestra into the second incarnation of the Duke Ellington Big Band. In a parallel universe, he is still secretly obsessed with Funkadelic basslines and squelchy analogue synth sounds.. though he has yet to suggest such pop frivolities to his fellow musicians. One day he will give it all up to seek the simple pleasures of being a recorder salesman (http://www.flickr.com/photos/richard-thomas/2814786231/in/set-72157607045696411/). Until that time he continues to enjoy the musical surprises, the experimental cooperations that shouldn't work but do and - most of all - treasures the chance to play with such a range of musical personalities and instruments that the orchestra is.
Simone Angel (not to be confused with the MTV veejay!) :: Red electric violin
never trust a lemon, its a melon in disguise, never trust a potato with shifty eyes never trust a radish it repeats all that it hears, never trust an onion it'll al end in tears. when i'm not in fear of vegetables, i like to play in and disrupt the cube orchestra. as an amazed unpaid audience member once said 'we make the world a more interesting place.'
Stuart Chalmers
im a human being first and foremost, but i also play guitars.sometimes i play the sitar, a glockenspiel or pieces of wood. never played a zither. not sure when i started or finished. tryed anything and everything- rock, folk, jazz, world music. now i just make noises/sounds. and breathe alot. it has taken me many places. met lots of people.made some new friends. improvising with others is good. always different. listening to others improvising is different also, but always good. i hope to in the future create every sound possible on the guitar.and every impossible sound. maybe thanks to all involved.
Reg Brunt
I'm confused therefore I think. We were thinking of taking over the world but the pig said it was too much like hard work