Upcoming Events
No upcoming events to speak of
---
Bluescreen (last Wednesday of every other month)
Come watch the orchestra as we dazzle emerging film makers with our special talents for synchronised live film soundtracking and beer drinking!
---
Speculative Events
None
Events that probably aren't going to happen
Renegade busking in a park near you!
But not in this weather. Oh no missus. No.
Events that haven't even emerged from the collective unconscious yet
We are interested in collaborating with musicians and other art forms such as visual artists and physical performers of all varieties. If this interests you, please contact us.
Available for random parades, funerals, barmitzvahs, film re-scoring, interventions, anything considered.
Contacts
email orchestra at orchestra.cubecinema.com
---
Past Events
Improv's Greatest Hits
Cube Microplex, Saturday March 10 2018
The Cube Orchestra was invited to kick off the Improv's Greatest Hits event at the Cube, getting to play in front of a live audience on our home turf. I think we smashed it. Not literally, we love the Cube.
Relive the moment: Improvs Greatest Hits 10 March 2018
Play Me I'm Yours / Bristol Street Pianos
The Bear Pit, Bristol, Wednesday June 23 2017
The Orchestra serenaded office wage slaves and street drinkers for several hours, before the skateboarders asked us to stop because we were being too annoying. Pot. Kettle. Black.
See videos here Images And Videos
https://streetpianos.com/bristol2017/pianos/the-bearpit-st-james-barton-roundabout/
The King And Dai
Cube Microplex, Wednesday June 7 2017
The Cube Orchestra dared to perform four Elvis numbers to warm things up for the screening of The King and Dai at the Cube Microplex. Several Elvis' took to the mic, but this one had the biggest stage presence. See here: http://cubecinema.com/programme/event/the-king-dai-how-porthcawl-became-the-elvis-centre-of-the-word,9387/
Excerpt: The Cube Orchestra are an improv collective (with a firm open house policy) spurring up small investigative stabs that spread like a reflected hall of mirrors before rhythmically flying away on a barracuda of elastic betweens. Three tracks in, they cheekily asked for any requests before the resulting chuckle of laughter was quashed in more sunshine-filled bedazzle
Damo Suzuki
Exchange, Bristol, Friday May 12 2017 7:30 PM
with support from Cube orchestra! Part concert, part comedy act, it's fair to say we smashed it, without getting banned. This was such a proper gig there was a green room, fridge full of beer, plus we got paid at the end of it. It really happened, see here: https://www.exchangebristol.com/events/2017-05-12-damo-suzuki-exchange or read a spacey review here: http://freq.org.uk/reviews/damo-suzuki-the-exchange/
The Stage (Working Title)
Arnolfini, Bristol, Sunday March 26 2017 14:00-18:00
The Cube Orchestra was asked to play at this interactive event at the Arnolfini Gallery and performed for four hours. This is what the fuss was all about: http://www.arnolfini.org.uk/whatson/the-stage-working-title
All Aboard The Good ship Hen~Do
Fri 26 February 2016 // 20:00
In a perverse tribute to one of our Hen's upcoming nuptials we invite you to set sail upon love's murky jetsam strewn waters. Captain Fredrick Von Lubenstein and his morose band of lachrymose batchelors and bachelorettes will welcome you aboard with the finest cruise ship entertainmints, crocktales, c shanties and Hawaiin platters. that moulder. Dress to express [your love of all things undersea and oversea] and come join us in first or second class..whichever your budget allows.. Be greeted by the ship's band as you climb aboard
Dismaland an original score for Bluescreen
On 2nd December 2015 The Cube Orchestra, for the first time ever scored something new to Bluescreen, a twenty-minute improvised opus on the theme of a trip to Dismaland. The soundtrack was subsequently overdubbed onto video, inter-cut with some live footage. The result can be seen here: https://vimeo.com/keefchemistry/dismaland
Sanctum Bristol
Orchestra Cube have been selected to perform at this exciting event. Dates and times TBC. More here: http://sanctumbristol.com/
¡hen~dø Vi :Archäologische Bootsfahrt
Saturday 5th September 2015
eXpect/acCept everyth1ng && nØthing. delvE future+past, bōuncing ARCHÆO_CUBE reflections off 6Os radicals in thIS space+2O2O radicals we'l'come in t¡me... the orchestra will be performing.
hen~dø: ÎntêrmißiøŊ ƦǐƑƒ (no.5)
Saturday 16th May 2015
Orchestra Cube invited members of the audience to perform self-written poetry and other such narratives, while the orchestra provided a suitable soundtrack, with some very pleasing results.
Hendo & Film Jam
Saturday 31st January 2015
Members of the orchestra improvised soundtracks to the film jam, creating a spectacular audiovisual feast for the senses.
Year of the Sex Olympics
Thursday 16th October 2014
Three members of the Cube Orchestra took to the Cube stage as a kind of warm-up house band for a film event about [The Year of the Sex Olympics].
Listen to the set here: Sex Olympics
Sci Fi: Days of Fear and Wonder
Saturday 4th October 2014
The Cube Orchestra play live as part of the Sci Fi: Days of Fear and Wonder, the BFI's huge celebration of science fiction at the Watershed, Bristol, UK, on 4th October 2014. Theme from 28 Days Later composed by John Murphy
Performers: Chema Gala: Sax; Oliver Kohll: Viola; David Finch: Flute; Sharleena Raczkiewicz: Vocals; Steve Lake: Vocals, Percussion; Jean-Michel Maheu: Guitar; Ramon Sanchez: Percussion; Steve Watson: Guitar; Jon Shepherd: Bass; Ollie Owen: Effects; Marcus Valentine: Keyboards
Camera: Jon from Formulate Media: http://formulatemedia.wordpress.com
Editor: keef chemistry: http://keefchemistry.com
cube orchestra at the watershed 2014 from keef chemistry on Vimeo.
Fluxus 'Happenings'
Saturday 28th February, 2015
Orchestra Cube performed an improvisation piece by Ollie Owen at the Fluxus event 'Happenings' on 28 February, 2015 [Facebook event page].
Critical Burns Night
Saturday 25th January 2014
Ollie, Ramon, Steve L, Jean-Michel & Marcus from Cube Orchestra provided a live improvised soundtrack to a reading of Robert Burns epic poem Tam O Shanter.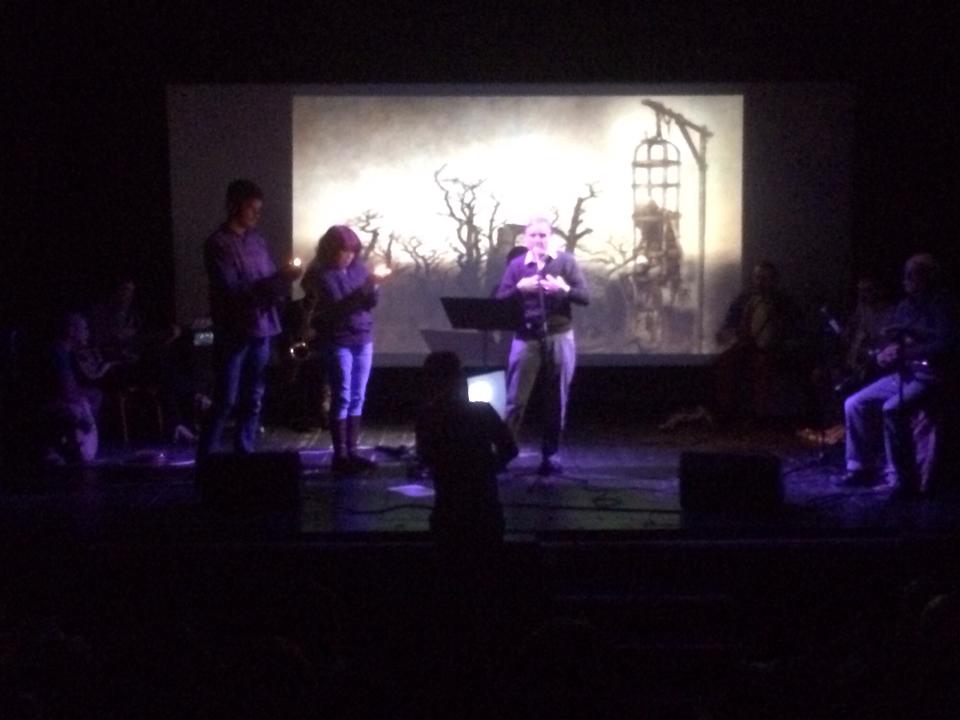 The Life and Death OF 9413 - A Hollywood Extra - 1928
24 November 2012
The orchestra improvised a life score to The Life and Death OF 9413 - A Hollywood Extra - 1928.
The Cubic Corporation Presents: Meet Our Residents
Friday 2nd November 2012
Relive our performance on youtube: https://www.youtube.com/watch?v=7ERdpCWi3UY
featuring Dalila, Gareth, Aonghus, David, Marcus and others
Music on Film: Grandma Lo-Fi + Slideshow Sideshow with Suzi Lamb Live
Tuesday 28th August 2012 8pm
The orchestra play a 30 minute set using instruments fashioned from household implements and a bicycle.
The Holy Mountain (Der Heilige Berg) With Live Score From The Cube Orchestra
Friday 7th October 2011 / 9pm / £5/4
(Arnold Fanck / Germany / 1926 / 106 minutes)
German filmmaker and doctor Arnold Fanck (1889-1974) made this beautifully photographed Bergfilm, or 'mountain film', in 1926. Written in three days and nights — especially for Leni Riefenstahl — The Holy Mountain took over a year to film in the Alps with an entourage of expert skiers and climbers. Ostensibly a love triangle romance — between Riefenstahl's young dancer and the two explorers she encounters — Fanck relishes the glorious Alpine landscape by filming death-defying climbing, avalanche-dodging, and frenetic downhill ski racing. After learning the ropes from Fanck, Riefenstahl's own Bergfilme flowered at UFA during the 1930s, and Fanck became her editor. This restoration is a visual feast — a fascinating look at the origins of a genre.
http://www.cubecinema.com/programme/event/id/5134/
A few days after the performance we received an email. He said
''I was one of the people watching The Holy Mountain last night. I have been an admirer and searcher of film my entire life and you gave me one of the greatest cinematic experiences that I have ever had. All throughout the film I had my face in my hands, I was truly on the edge. I had been waiting for that for a long time and rarely am I ever so deeply moved.''
Bike Noise Parade
4, 5, 8, 11, 12th September 2010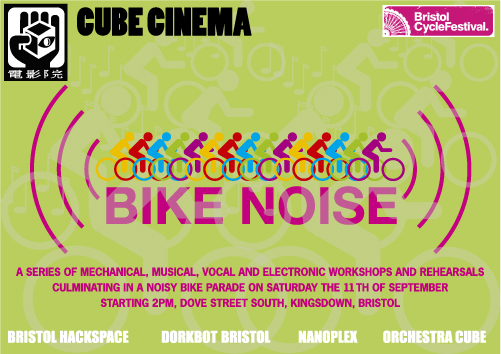 A series of mechanical, electronic and musical workshops culminating in a parade using only bicycles and sounds made using them, passing through local festivals and street parties on Saturday 11 September 2010.
The Paper Cinema And Little Boat, Ed Dowie With The Cube Orchestra Presents The Lost World By Sir Arthur Conan Doyle And The Nightflyer
(Sat March 20th 2010 / 8pm / £6/5)
The Paper Cinema returns to The Cube for a highly anticipated collaboration with The Cube's very own orchestra.
Charmingly lo-tech, with the cast of hand-drawn puppets magically brought to life in front of you, it's a mix of inkblots, angle-poise lamps, video technology and improvised music.
In The Lost World four gentlemen set out on a head-long journey across a continent searching for the existence of pre-historic life. One is journeying to prove his findings right; one to prove the other wrong; one to win the hand of his sweetheart; and the last just for adventure.
The Night Flyer tells of a hero crossing the night on a mysterious train to find the lost girl of his dreams.
Stephen Grew / Orchestra Cube
Wednesday 2nd December 2009, 8pm
A legendary improviser, Stephen Grew's self taught keyboard and piano work has stretched not only across the continent and seas, but also from acoustic to electronic and even orchestral music in recent years, working with Keith Tippet and Evan Parker. We catch him on his way to Bratislava.
On this night, Stephen joins forces with our in-house Orchestra Cube, firstly for a workshop on improvisation and the moving image, and will show the results of this as well as performing a solo set.
http://www.myspace.com/stephengrew
Cube Orchestra supported JOE MORRIS / TONY BEVAN / DOMINIC LASH / TONY BUCK QUARTET
Friday 30th October 2009, 8pm
13 September 2009, 6:00 PM
Screening of the Burroughs / Gysin / Balch / Somerville film [The Cut Ups] with live soundtrack by the Cube Orchestra
Cube Orchestra supported STEVE BERESFORD / OKKYUNG LEE / ALEX WARD
Wednesday 6th May 2009, 8pm
The Ebb of Acrophobia
Members of the orchestra and the Feral choir (Gerry, Steve, Oliver, Andy, Moses, Jerry, Pauline), along with many other musicians conglomerated at the Trafalgar Square fourth plinth to perform a world premier:
l reed & b yianni / world premier / fourth plinth / trafalgar square / london / 13th july / 2009
Full details and score : http://lawrencereed.com/
Webcast: http://www.oneandother.co.uk/participants/vertigo
University of West of England Animation department
Wed 26th February 2009
The orchestra (represented by Paul A, Richie Paradise, Richard T, Harry, Moses, Gerry, the Fungus Moth, Oliver and Marcus) played a cracking set accompanying classic animated shorts from the 20s, 30s, and 40s to a mostly empty room, whilst down the corridor bright young things swigged wine in the company of triple Oscar winner Richard Williams.
Heavy Heads presents The Beat Down
(Thu 30th October 2008 / 8pm)
The infamous writers of the ground breaking 50s and 60s 'Beat Generation' emphasized a visceral engagement in worldly experiences combined with a search for deeper spiritual understanding; a quest that is as relevant today as it ever was. Come and join in with a celebration of the achievements of Ginsberg, Kerouac, Burroughs and company through live performance including poetic recitation, short films with a live soundtrack from the Orchestra Cube and the Dead Beat DJs in the bar.
[Richie's Blog write up including youtube clip]
Katalina Szombath Opening Exhibition
(Tues 4th Nov 2008 / 6pm / free / St Georges, Brandon Hill)
The Cube Orchestra provides a live accompaniment to the opening exhibition of award winning artist and photographer Katalina Szombath. The theme of the exhibition will be "Orlando" so expect Elizabethan attire!
Doors open 6 pm , people mingle (bar open from 6pm), Richie introduces show about 6.20/6.30pm, we start playing around 6.30/6.45pm, finish 7.15/7.20 pm you mingle with all until 7.45 pm, then collect instruments and leave around 8pm.
Qubulan
Thursday 25th September 2008 at the Cube
Welcome to the launch of the Qubulan night. A long awaited collaboration between the Cube Orchestra and the Cube's film programmers: From the earliest days of cinema, musicians have been accompanying cinematography. Today, the cube offers its own interpretation as its in house participative improv orchestra provide the sounds to a rich and illustrious selection of silver screen classics and short films. Expect guests and surprises. Want to be a surprise guest? Come to a rehearsal!
Cornwall Road (Bishopston) Street Party
(Sat 12th July 2008 / 9pm / Free)
The Cube Orchestra takes to the main stage for one of the most celebrated street parties in Bristol
Jan Svankmajer Night featuring 'Alice'
(Sun 29th June 2008 / 7pm / £5)
Jan Svankmajer in one of the most distinct voices in surrealist film, dazzling audiences for over 30 years with his trademark style of animating everyday objects – giving them life in ways that are often very cynical or sinister.
Opening the evening, the Cube Orchestra and the Feral Choir quintet will present a live rescore to Svankmajer's 1970 short 'The Ossuary'.
Eddie Prevost Workshop
(Sat 14th June 2008 / 1.30-3.30pm)
Famous free improviser Eddie Prevost will teach his improvisation techniques to both settled musical practitioners and young music students.
Frank Zappa Tribute Night
Thursday April 17 2008, 8pm
The Orchestra, wearing their finest zappa moustaches, provided a live soundtrack to a compilation of Zappa short film and documentaries, concluding with an unlikely rap treatment of Titties and Beer.
Harry Smith Night
Sat 26th Jan 2008 at the Cube
The Orchestra (represented by Paul, Oliver, Ale, Liam and Marcus) soundtracked the film "Heaven and Earth Magic" by legendary Greenwich Village magus, record collector and hero of substance abuse, Harry Smith.
From Jolly Roger To Old Roger
Sat 27th Oct 2007 at the Cube 8 pm
Excerpts from Häxan: Witch Craft Through The ages (1922) and swash buckling pirate films with an improvised score played live by The Cube Orchestra, conducted by Randell Brantley.
http://www.brh.org.uk/brhw2007/merryhell.html
Bring Your Kid Fest
(Sat 21 October 2007 / 2pm) The Orchestra joins Hacksaw and other top Bristol kid-friendly bands for an afternoon's edutainment. We soundtrack Dr Seuss' The Butter Battle Book with help from our little ankle-biting friends and their newly made instruments
Arabic Music Workshop
(Sat 10th March 2007 / 2 pm / £8)
Organised by the Orchestra Cube, this middle eastern music workshop will be run by Maren Lueg and Chas Whitaker. Maren plays a variety of traditional wind instruments and Chas uses traditional Middle Eastern percussion. We will learn about rhythms and melody, and use concepts such as taqsims and maqams to explore improvisation. The workshop is for anyone with a basic proficiency on their instrument. Duration 1hr 45 mins.
FFI http://www.arabicdrum.co.uk
Rescore of Pandora's Box
At the Cube, 12th of January 2007, a Friday, at 8pm. That's that silent film, the one with no sound. Great film and the star looks spookily like Zuleika.
Orchestra Cube plays at Cube New Year's Eve Party 2006
Bring out the old! Bring in more of the same! We rocked the Cube, complete with stage invasion by dancing drunkered punters.
Totterdown Front Room Art Trial Weekend
Sunday 19th November 2006, 4pm, Free
Look out for Cube-orientated fun at Richie Paradise's House, including Mr Hopkinson's Cutting Up My Friends, Blog Highlights and Orchestra Cube.
FFI http://www.frontroom.org.uk/
EUGENE CHADBORNE & ORCHESTRA CUBE
Fri 01 Dec 2006 / 8pm / £6
Oh golly gosh. A true exponent of 'everything is possible' comes to Bristol. Erratic is not the word for EC's amazing career. Born in North Carolina in 1954, he has drawn from Dada, improv, country music, folk art, sound collage and a *kaleidoscope* of rock and jazz guitar techniques as well as from the chaotic structures of Charles Ives to make his cult brand of funnily experimental and queerly awesome music.
John Zorn, Fred Frith, Camper Van Beethoven and the voice of Charles Manson all feature in his long line of collaborators. EC has a *punk irreverence* to categorisation, and tonight he might (!) play with a pick-up band, electric rake, prepared piano or household toys...
FFI See http://www.eugenechadbourne.com/
Improvising Workshop with Nick Sorenson
Thursday 21st September 2006, 7:30 pm @ the Cube FFI: http://www.improvisingschool.com/
The Greatness of the Magnificence Presents a Night of Bowie
Friday 1st September 2006, 8:30pm
The Cube Orchestra did their [first and probably only cover song]. Other bands include Morningstar, This Is The Kit & Paul McGuiness?.
Locating Grid Technologies Workshops
3 Workshops during Summer 2006 in Collaboration with Angela Piccini at Bristol University
The Cube Orchestra provided a musical element to some matrix like experiments to ultimately control and pacify the human race. Multi track video and audio recordings, annotations and scores subsist, still to be made into some kind of discernible mess.
Ashton Court Festival - Blackout Tent
- 22nd July 2006 On Stage: 5:30 pm Live music and multimedia performance featuring short films by David Hopkinson, Liam Kirby and Kyra Norman.
The Sunrise Summer Solstice Festival - 16th to 22nd June 2006
Improvisation amongst the hippies! We were magnificently but subtly musically subversive.
Musical Flash Mob
@ Turbo Island, Stokes Croft during Venn Festival, 2006 The orchestra's contribution to Venn 2006. Bring concealed instruments and unleash them and get jamming at 2pm.
The Light Fantastic
Tuesday 30th May 2006 - Cube Microplex, 7:30 pm Live interaction with historical and avantgarde dance on film. The Light Fantastic is a great showcase for innovative dance.
The Random Festival of Improvisation
Thursday 30th March 2006 @ the Cube 7:30pm (£3)
Open improv workshop and performances from some of Bristol's most interesting improvisers! Includes performances by the Absolute Dream Palace Trio, Hannah Godfrey and [other special guests]. Bring your instrument if you'd like to take part.
Live collaboration with The Here Shop drawing crew
Cube Microplex 2005
Summer Busking on College Green
Random Improvising Procession
Venn Festival 2005 Pied piper stylee, from the Cube to Malcolm X centre.
The Greatness of the Magnificence Presents: A Night of Orchestras @ the Cube
Including the wonderfully magnificent Morningstar Small Orchestra and the Turntable Orchestra which was a rare treat - in fact possibly their only ever performance together!
The Greatness of the Magnificence Presents: A Windy night @ the Cube
A mighty wind indeed!
In The Beginning
December 2004 saw the birth of Orchestra Cube, led by Peter Reynolds and Jesse Morningstar.